Great Rides: Riding the Rebellion Way with children in tow
The day the Rebellion Way launched last year is etched on my mind. Not because I had a burning desire to ride around Norfolk, but because I heard that it had been ridden by a handcyclist. Knowing that another non-standard cycle had ridden the route sparked a desire to ride it too.
Described as 'non-technical, gently rolling, off-road terrain and sometimes-scruffy road surfaces' the route sounded tantalising. The more I read about the Rebellion Way, the more I felt confident that a collection of mums, youngsters and bike trailers could make it work as a first accessible bikepacking adventure.
The only sticking point was the distance. At 373km in total we were unlikely to be able to do the full loop, especially in January with limited light and children in tow. We reduced it to three days of approximately 30km a day, with a van on hand to provided shuttles if needed – our own Rebellion Way 'taster tour' starting from Kings Lynn and taking in overnight stops at Heacham and Wells-next-the-Sea.
With the Rebellion Way being partly inspired by the uprising Boudicca led against the Romans we felt her spirit coursing through us as we led an uprising against cycling stereotypes

Vicky Balfour, bike mechanic
Day one: Kings Lynn to Heacham
"Boudicca would be proud of us!" "Boudicca would be jealous of our trailers!" "Boudicca wouldn't be pedalling herself!" Boudicca isn't a woman any of us usually reference in conversation but with the Rebellion Way being partly inspired by the uprising she led against the Romans we felt her spirit coursing through us as we led an uprising against cycling stereotypes.
Within minutes of getting underway, we were cocooned amongst large fields, surrounded by birds of prey. None of our co-pilots were particularly interested in stopping at Castle Rising, one of England's finest 12th century castles, so with a quick backwards glance we pressed on, revelling in the wide, flat bridleway that led us cross country to the Sandringham Estate. Even when we joined the roads, the traffic was light and refreshingly courteous as it passed.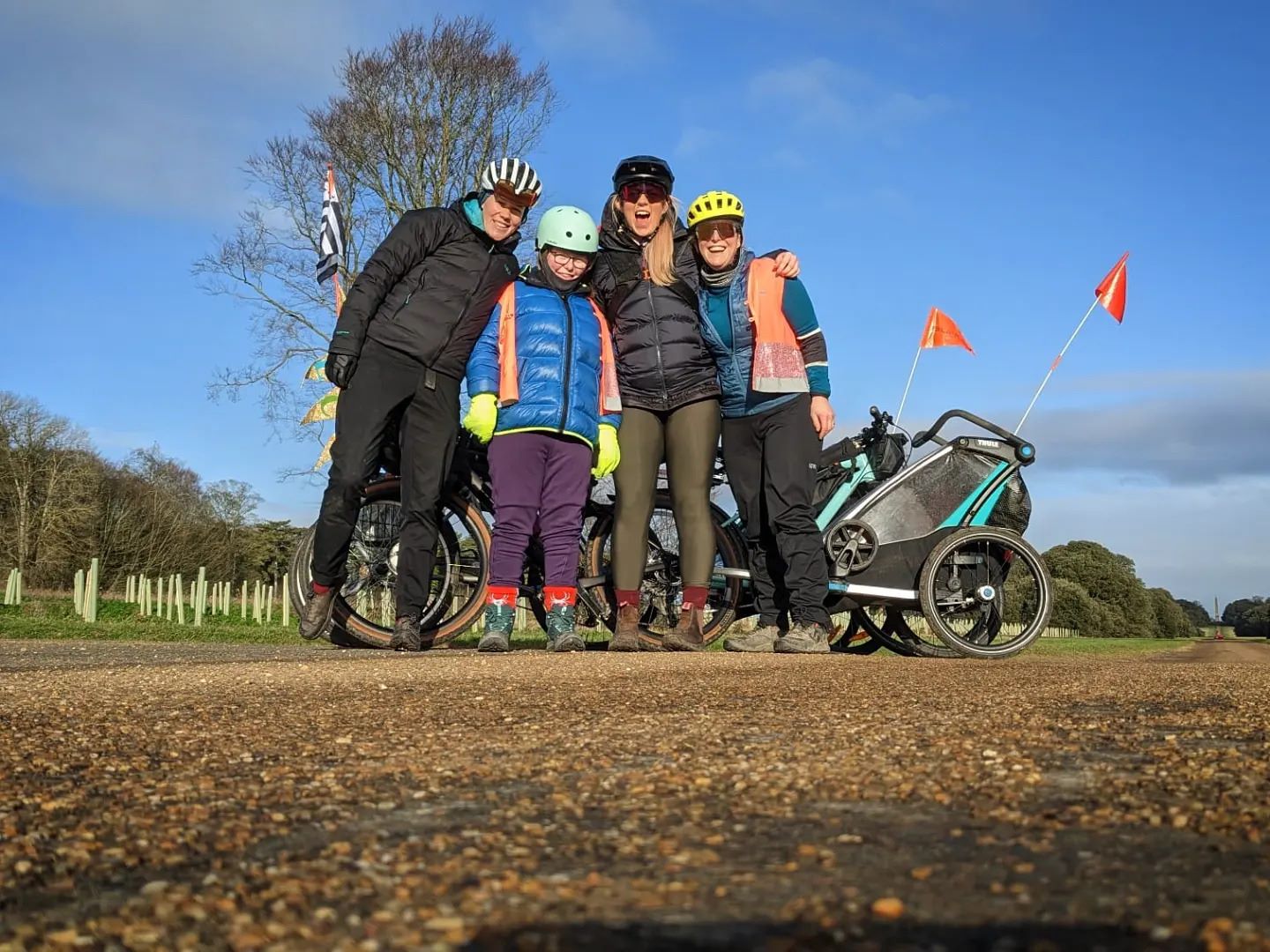 A quick detour along one of the public roads through the estate revealed chocolate-box cottages but no café. By now it was late morning and we were getting hungry. Bikepacking as adults is often a case of finely balanced energy levels and this is magnified when doing it with children and disabled cyclists.
CeCe's morale was dropping so we stopped at the Sandringham Sawmill and checked our phones for nearby pubs or cafés that were open on a Tuesday in January. Twenty minutes later we were directed to the courtyard behind The Feathers in Dersingham where we could safely leave the bikes before trouping into the bar to rest and refuel.
A quick look at the route revealed that what we'd thought was realistic for Day one wasn't, not when you took sub-zero morning temperatures and deep-winter daylight hours into account. We had been due to head from Sandringham out to Hunstanton and then weave our way back inland to stop at Heacham Manor Hall for the night.
Bikepacking in mid-winter is different but no less glorious than in summer. While the lavender farms weren't the heady mix of colour and scent, the bare hedgerows made it possible to see beyond the fringes of the lanes.
We raced into Heacham in the last of the light and arrived looking slightly dishevelled at Heacham Manor Hall. Our assumptions that they would be horrified at the state of us couldn't have been more wrong. We were welcomed and feted, with many of the other guests stopping to ask CeCe about her bike, our journey and to tell us their stories too.
We were sorely tempted to scrap our plans for Day two and stay in the warm bosom of that hotel. Come the next morning, though, we were loading the bikes, fixing a puncture and rolling on out.
Day two: Heacham to Wells-next-the-Sea
After the natural tones and soft shapes of the countryside, our ride through 'Sunny Hunny' (Hunstanton) was a shock to the senses. The bright colours of the beach huts and the metal of the seafront funfairs were as jarring as the unmade road that led us behind the sea defences. Neither lasted for long, and after a quick stop in the car park next to Hunstanton Lighthouse to regroup, we headed on for an early lunch.
We set off after lunch with a determination worthy of both Boudicca and Robert Kett (the 16th century land-rights activist who also inspired the name, the Rebellion Way). At this point the Rebellion Way overlaps with Sustrans NCN 1 and you run parallel to the coast on a straight Roman road. Stopping in Burnham Market to fix our second puncture of the day we carried on up the only notable climb of the entire trip to the edge of Holkham Park.
Whether we have Robert Kett or straitened financial circumstances in the early 20th century to thank for our access to Holkham Park is irrelevant. This is one of the most idyllic places to cycle. The entrance gates open onto a long driveway capped by an obelisk folly on a grassy mound.
Rounding the obelisk in the late afternoon with the sun low in the sky, you could feel the original landscape designer, William Kent, at your shoulder beaming as you gasped at the sight. As cyclists we're often spoiled by natural landscapes but it's not often that my breath is taken away by something manmade. Despite our time pressures we stopped and admired the beauty of the Neo-Palladian Holkham Hall laid out before us.
With little time to spare we dropped through the extensive park, repaired our third puncture of the day and were soon tanking along the road into Wells-next-the-Sea. The sign marking the town's boundary declares Wells-next-the-Sea to be a 'safe haven' and that was precisely what we were looking for.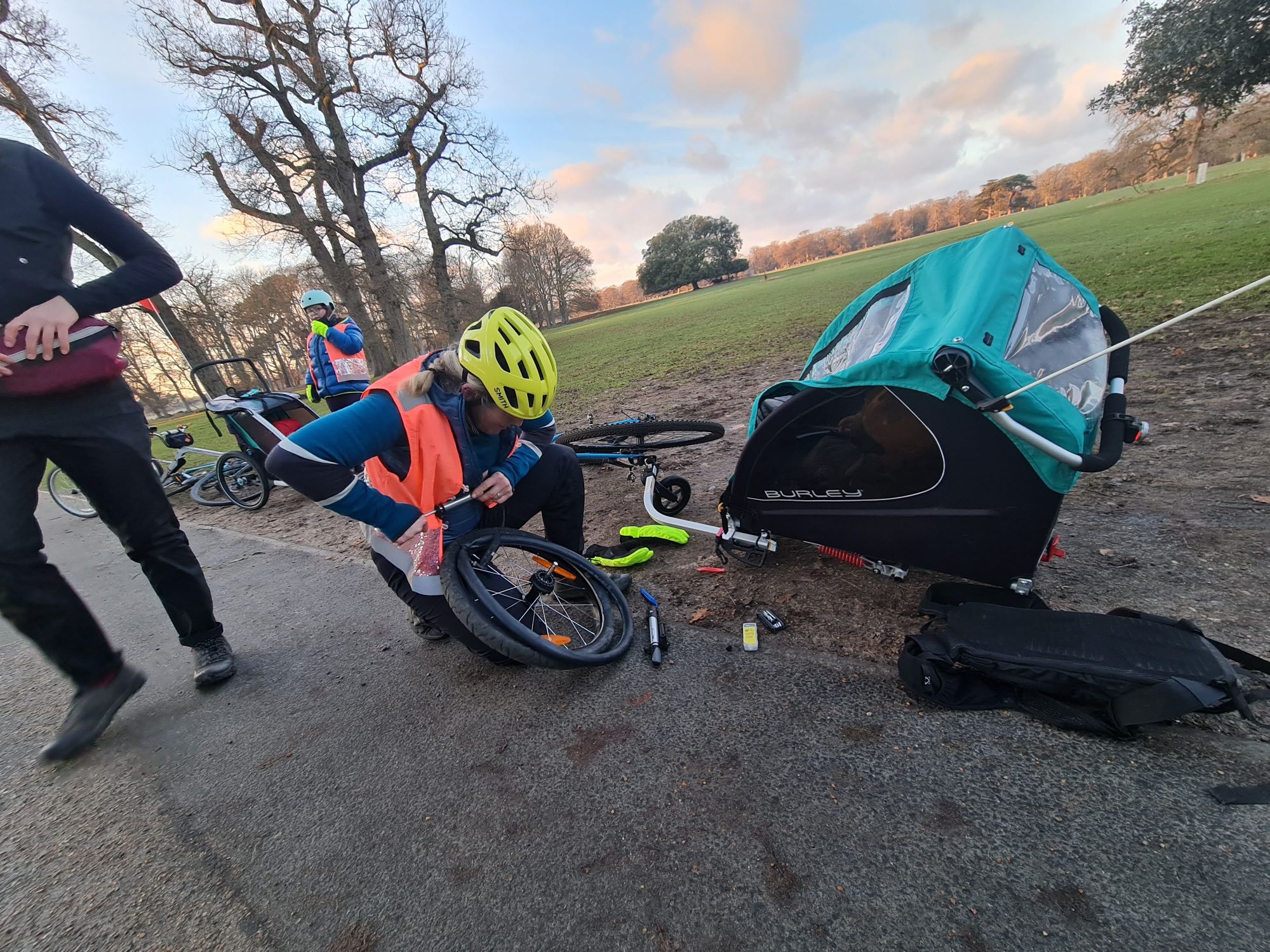 Day three: Wells-next-the-Sea and return via Burnham Market
The day dawned clear and cold with reports of black ice on the road. We delayed our start and re-planned our route so that we were only heading back as far as Burnham Market before using our support van to shuttle us to Kings Lynn and our vans.
Pulling our trailers back up through Holkham Park we again celebrated its 18th century designers. Unlike modern drives, this had been designed for horse-drawn carriages, with a surprisingly gentle gradient. Retracing our steps to Burnham Market, dark clouds approached, bringing a cold wind and sleet. Our first wintery weather of the trip and a timely reminder that we'd been blessed with two of the best days' cycling, creating a perfect winter bikepacking trip.
We finished our ride at a No Twenty9 in Burnham Market, with open fires and plates of slow-cooked food. It felt like the definition of glamorous gravel but with three children ranging from seven months to 16 years we were already breaking the bikepacking mould so why not continue as we'd started.
Pockets of adventure
Ever since I started cycling with my daughter CeCe, towing her on a Mission Cycles Piggyback trailer trike, I've been itching to go on a multi-day trip. Why wouldn't you, with a large basket coming as standard on the back of a trailer trike?
However, being ambitious for your disabled young person is tiring and sometimes that ambition isn't enough to get you out on an adventure. The confidence I got from knowing that someone who looked more like us had ridden the route was immeasurable.
Even then I still didn't want to do it alone, so I roped in two other adventurous mums I know, along with their youngsters and bike trailers. Now that we've done it once I'm already looking at other routes and investigating e-bike options. With pedal assist, I really fancy trying Dorset, Devon, Cornwall and even Scotland.
It can be easy to feel deflated if you have to shorten or adjust your route, but that flexibility and uncertainty is the essence of adventure and creates resilience. It also gives parents an opportunity to model behaviours for their youngsters, which is especially important with neuro-diverse and learning-disabled children. My daughter gained so much confidence from the trip – through necessity she cycled further than she had thought she could.
If you're thinking of going bikepacking with children or disabled people, I would wholeheartedly recommend it! Start small and go from there. Even a couple of days away felt like a true pocket of adventure.
Vicky recently worked with us on our new series promoting the EXPERIENCE project to share the five golden rules for planning an accessible bikepacking trip: