Outstanding Campaigning Individual Finalist - Matt Hodges
Along with another of Cycling UK's campaigners, Les Cross, in 2003, Matt helped stave of an application for a bottle bank that would have led to an influx of lorries along the winding and picturesque lanes around Bleasdale - the victory is celebrated in one of our 140 routes.
Matt's long-term dedication to the cause of cycling has undoubtedly made a positive difference to many cyclists in his area, whether they're cycling for everyday purposes or out to enjoy themselves in such stunning surroundings, and he has campaigned for Cycling UK for many years.
He has recently been campaigning to prevent Lancaster City Council's plans to close the cycle path in order to build a flood defence wall alongside the River Lune from Skerton Bridge to the M6 and was interviewed on BBC Lancashire. 
Matt is a member of Dynamo, the Lancaster district cycle campaigning group. He says: "I joined mainly to be aware of issues they were raising and to add weight from Cycling UK where appropriate. I tend to concentrate on technicalities of infrastructure rather than getting people to cycle.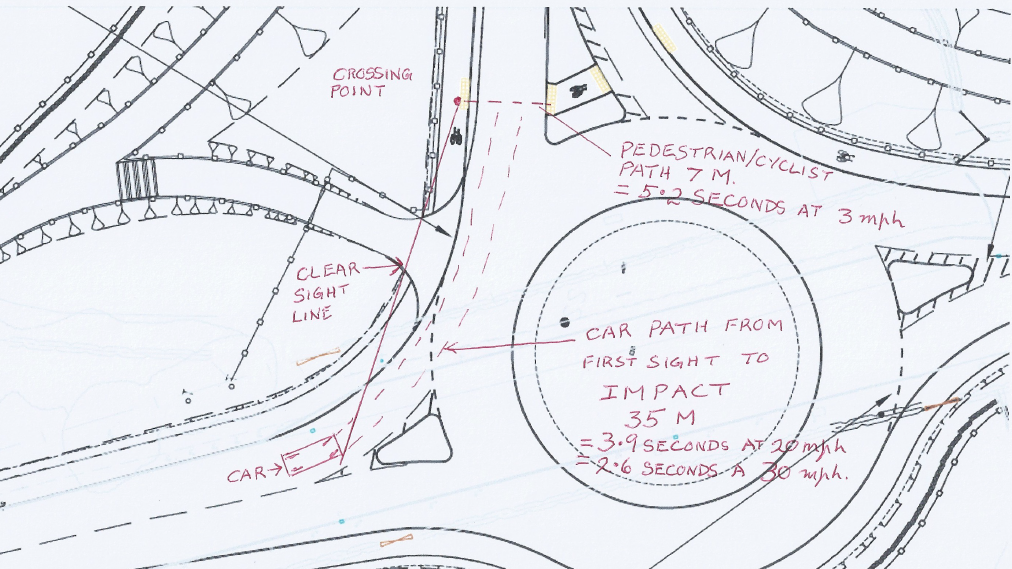 "One success I had was in getting the Highway Authority to instal a toucan crossing on the approach to a new roundabout they constructed at the start of the new Broughton bypass. They had put in a crossing point on the new bypass immediately round the corner at this new roundabout but the sight line was so restricted that anyone waiting to cross from left to right on the above drawing had less than four seconds view of approaching cars while it would take them at least five seconds to walk to the splitter island.
"Eventually, they accepted the danger and installed a toucan just off this drawing to the left so pedestrians and cyclists could cross before the roundabout and use the shared path round the other side of the roundabout to continue on the old road. It is a route to a large secondary school.
"Another case concerns another roundabout at the other end of the Broughton bypass where the A6 intersects with the M55. This case is still ongoing. There is a substandard shared path round the west side of this roundabout. This path is obstructed by a lighting pole and two traffic light poles on the SW entry into the roundabout. A lot of children walk or cycle along this path on their way to or from Broughton High School and because of the narrow and obstructed path, some of them walk or cycle between the traffic light poles and the kerb.
At this point, HGVs heading onto M55 regularly come round the corner at speed with their rear wheels rubbing against the kerb. Highways refuse to accept that this is a dangerous situation that needs urgent attention, despite photographs of near misses."