Cycle Show: a view from the stand
Wednesday, 18 September 2019
For those who have never visited, these trade shows tend to be full of cycling brands with their latest bikes, next year's gear and cycling technology that raises an eyebrow or two.
Cycle magazine editor Dan Joyce has written a round-up of the things that caught his eye, although with a busy stand to organise and several stage presentations to manage it's not always possible to get out and see all the other exhibitors!
Why we attend
These trade shows are a great way to get out and meet the public, giving us an opportunity to talk to you about all the work we are doing. We know hundreds of our members go because you come up to the stand and tell us! As someone whose day to day job is usually spent behind a desk, it's great to meet members and hear about how the work we do is received and the difference it's making.
It's also important at these events to speak with those who haven't heard of Cycling UK. We're often approached by show visitors who are new to cycling and don't know much about us. Whether it's explaining about our campaigning work, projects, our groups and clubs, or the benefits of membership, it's important and enjoyable to enlighten the thousands of people who visit.
The Cycling UK stand
This year, we took a slightly different approach and had a stand that was sectioned up to display different areas of our work in four distinct zones.
Membership is an important part of our presence at these shows and we were particularly busy this year signing up new members, renewing others and showing off some of the prizes for the upcoming Grand Draw – the custom bike from Mango was a popular highlight throughout the weekend.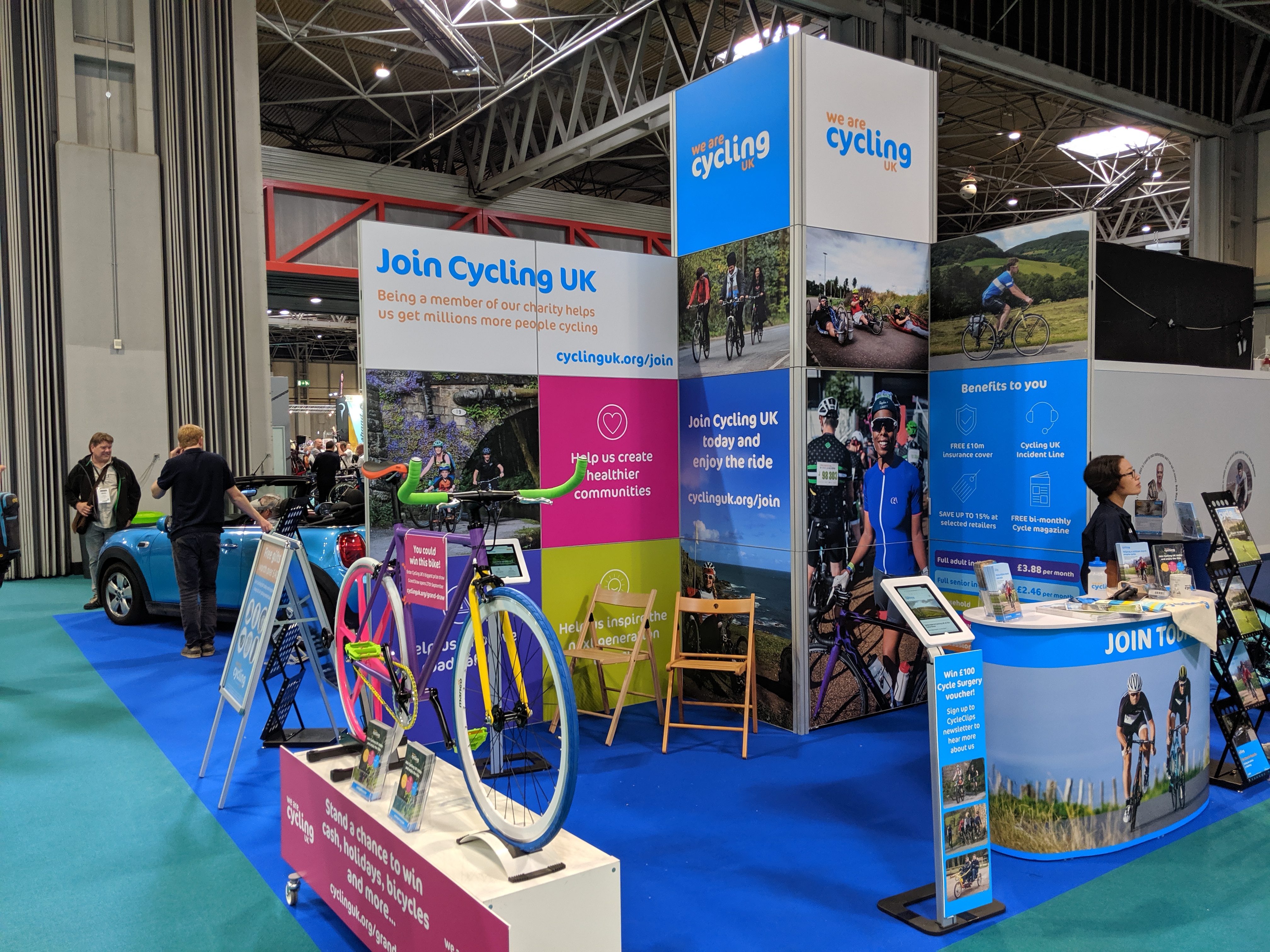 We had dedicated zones for our training and courses, as well as for our Women's Festival of Cycling. This proved to be of interest to a lot of people who were keen to hear about what we do to encourage more women to take up cycling, either through the Festival or through our community clubs.
Our campaigns are always of interest to visitors at these events. This year we took a BMW Mini with us to generate attention for our recent driver education campaign around teaching the Dutch Reach.
This drew in a lot of passers-by, and our campaigns team, led by Keir Gallagher, were kept busy throughout the show demonstrating how the virtual-reality headsets worked and what we are hoping to achieve through our #TeachTheReach campaign.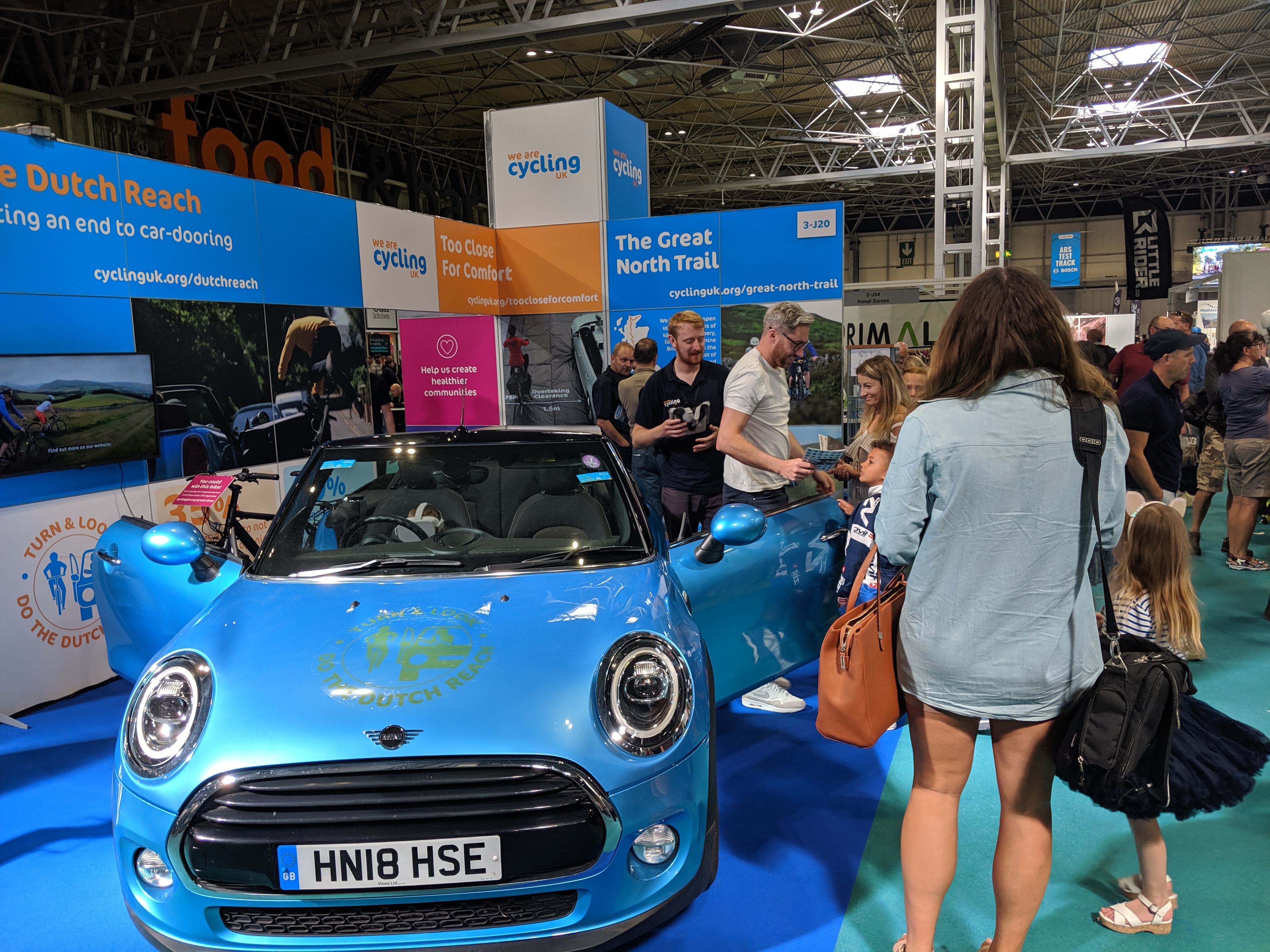 Stage shows
We appeared on stage three times throughout the weekend to talk about several areas of our work. Head of campaigns Duncan Dollimore was on the V12 Finance Main Stage on Friday to talk through the #TeachTheReach campaign and help drive people to our stand to give it a go for themselves.
Saturday morning saw us head to the Komoot Advice stage to discuss how we can get more women to take up cycling. An attentive audience watched as Anna Glowinski, Lorraine Dixon – both 100 Women in Cycling nominees – and Cycling UK's head of engagement Helen Cook discussed barriers faced by women, and what we can all do to help overcome them.
The response, particularly from the younger members of the audience, was really positive so we're already feeding back those ideas into the planning for next year's Women's Festival of Cycling.
The highlight of our stage presence happened later on Saturday. It was standing room only as a packed crowd watched some of the footage of the Great North Trail as Duncan and Anna took them through the new route.
It was great to see such enthusiasm for it and loads of people spoke to us over the weekend about their desire to ride it next year. Do let us know how you get on.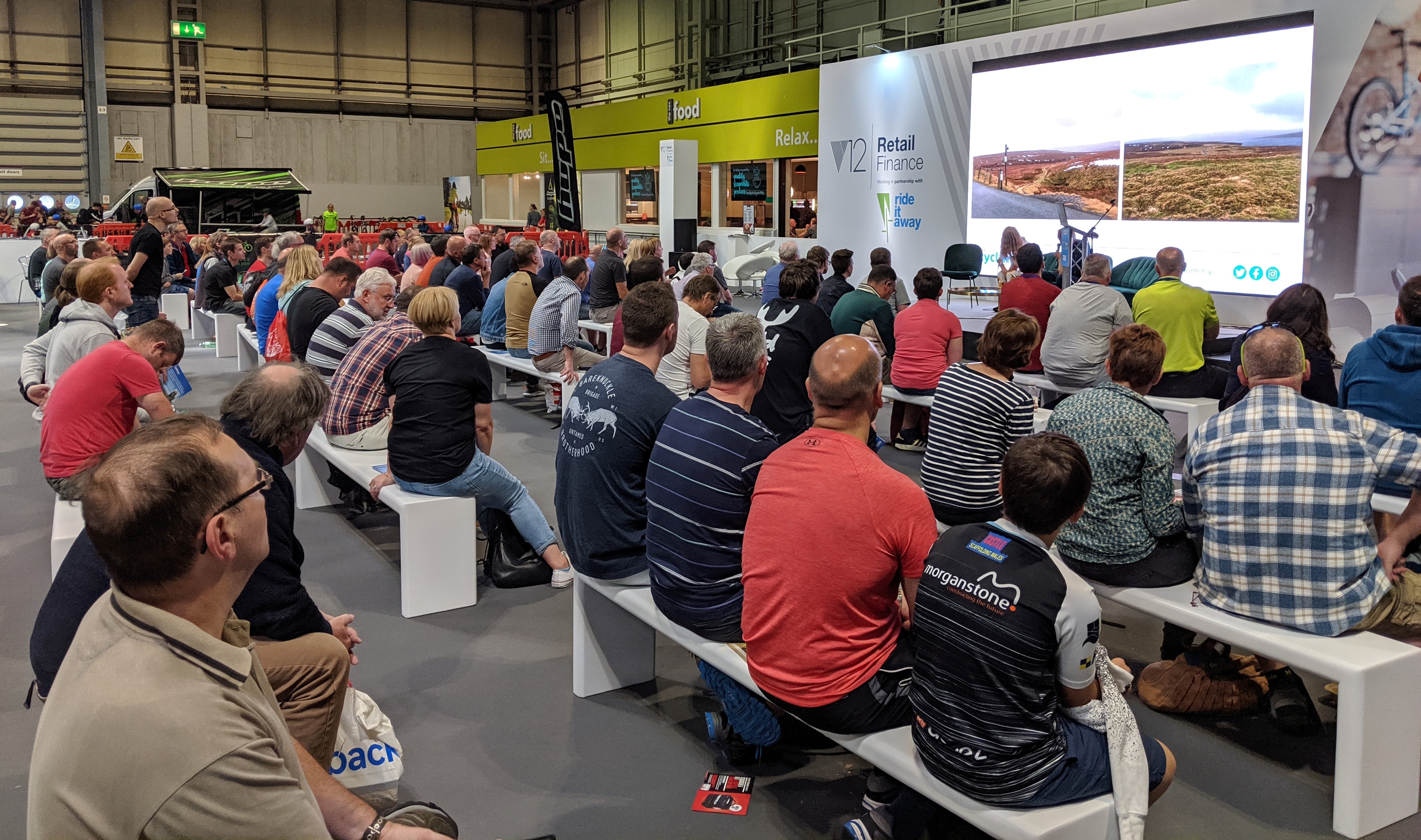 Next time
As many will know, these events take a lot of time to prepare and the planning is already underway for the big shows next year. I love doing these events, and the positive conversations we have with members and supporters is great for all the staff who attend.
We believe it's important to use these events to shout about the work we do, and to be there so others can find out about all the different areas of work we do as a charity.
If you're keen to find out more about where we'll be next year and how you can come along, keep an eye out for updates in CycleClips.