How to promote your Bike Week event
Whether you're putting on a bike breakfast at school, a cycle to work day, or even organising a charity ride, we've got some helpful tips for creating as much awareness of your event as possible.
Most are either free or low cost and won't take too much time to do. You'll have the most popular event around. 
Flyers
Flyers and postcards are a great way to spread the word about your event. They are easy to include all your event information on, contact details and perfect for handing out to a large number of people so that they can take them away.
You can hand them out in person, drop through letterboxes or staff in-trays, or even leave them in local hotspots where people are likely to pass and pick them up. Your local bike shop will almost certainly be happy to help pass them on.
Posters
Putting posters up in prominent positions will help advertise your events. Try and think of places where people stop and linger, and where they will be visible to a large number of people who are likely to be interested in your event.
If it's a work or school event, put a poster up in the canteen, toilets or lunch room. As it is likely to be well seen and if your ride is open to the public, try cafes, village halls and shops in the local area.
If you want the official Bike Week posters you can download and print them from the Bike Week website. There are even different versions that you can add your own event details to.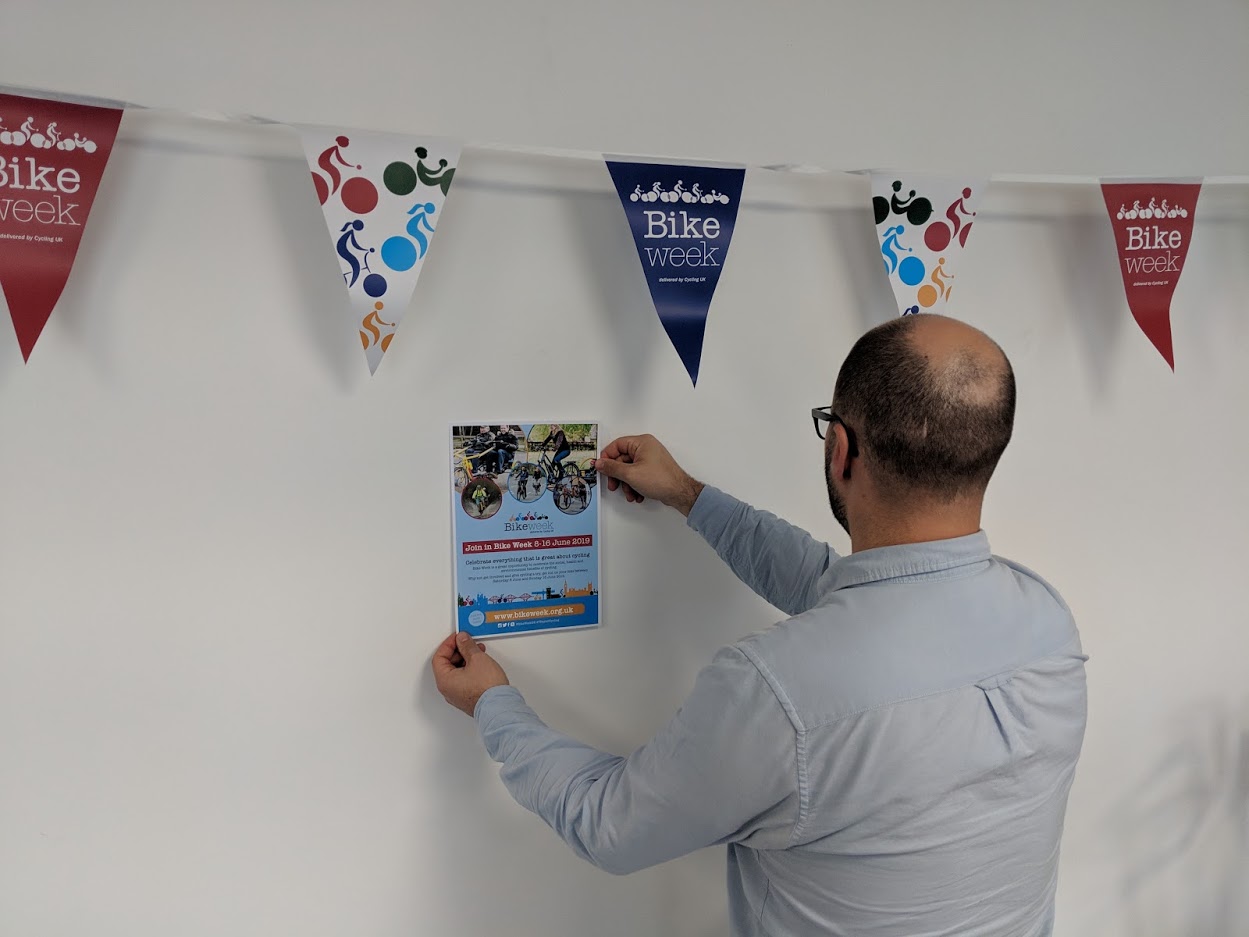 Local press and radio
You may be able to get local radio stations, newspapers, or even magazines and local guides to shout about your event. Many will be keen to hear about community events and may be able to help give you publicity. Most of these media will have local event listings that you will be able to have your event included on, and you may even be featured if your event is appealing enough to them.
Email marketing
An email newsletter is a great way to communicate all your event information and you can make it sound exciting so that people will want to attend.
This is likely to be an option if you already have contact information for your potential participants, perhaps through a previous year's event or because you work together. Use work/school intranet and internal communications to directly inform people about your event. 
Social media
A great way to spread information about you event very quickly and cheaply is through social media. This is really useful if you are trying to encourage either friends or the general public to participate in your event.
Some social media ideas and tips to try:
Events: Facebook and Strava will allow you to set up events that you can then invite participants to attend. This is a great way to notify people that the event is happening and has the advantage of not getting missed in other posts.
Post regularly: whichever social media channels you promote your event on, reach out to people multiple times. Everyone won't be online at the same time, so posting on different days and times of day will mean you reach more people. You could even tease people with a countdown and releasing information in bite-size bits, letting them know the route, the food, or any other enticing details that are applicable to your event.
Use pictures or video: images, either still or moving, are much more effective at grabbing people's attention.
Strava: if your event involved a ride, why not use Strava and create and event or group. This way you can share the planned route with participants, post reminders of the event, and share helpful tips to prepare.
Join in with our social media campaign #7DaysofCycling. Your event will fit with at least one of our seven themes and thousands of people will be using the hashtags to find out what's happening near them.
Make sure all of your social media posts include #BikeWeekUK and #7DaysofCycling as these will give you the biggest reach. You can also tag Cycling UK in your posts as we love to know what's going on - and we really want to see your pictures!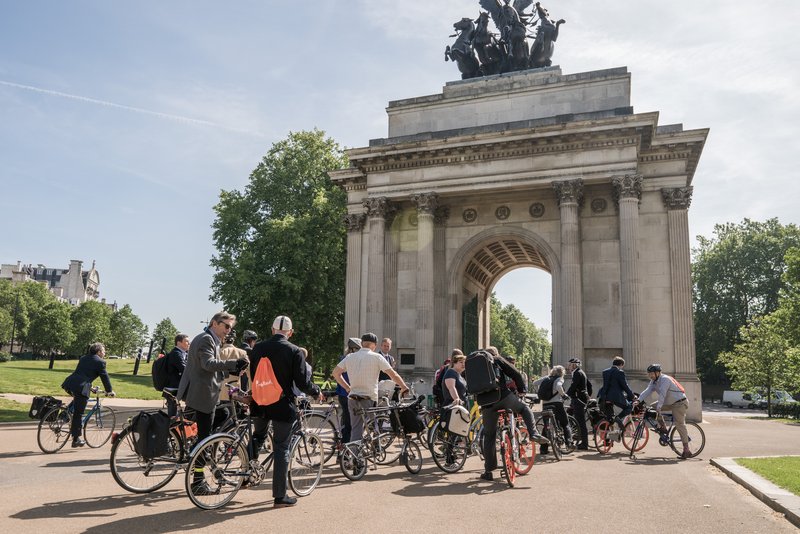 Word of mouth
Don't underestimate the power of word of mouth. Tell everyone you meet where, when and why your Bike Week event is taking place - and why cycling is so great!
We know from our research that the best way to encourage people to take up cycling is through friends and family, so talking about your event will make a big difference.  
The more people you tell, the more they will help spread the word.
The simplest – and quickest – way to promote your event is to register it on the Bike Week website. This will make you will be part of the biggest awareness-raising event for cycling in the UK. It'll also mean that your event will appear on the event listings on the website.
Make sure you include all your event details including the where, when and why's, but also add your contact details in case people have questions. Make your listing stand out by uploading photos.
All registered event organisers can receive a Bike Week Event Pack to help them promote their event. These include postcards, bunting, balloons and other great promotional materials that can be used to decorate and create awareness – both before and during your event.