10 great event ideas to try for Bike Week
Each year Bike Week encourages more than a quarter of a million people to take part in events, reconsider their everyday journeys and switch to cycling as the best way to get around. There are lots of different ways to get involved; whether it's your first time organising an activity or if you're a cycle event connoisseur, there are plenty of ways you can get more people cycling. 
1. Cycle to Work Day
A Cycle to Work day encourages people to try cycling into work. It's not only a great way to join in with Bike Week but may mean some colleagues rethink their commute and switch to cycling as the most agreeable, fun, and healthy way to get around. You could provide route maps for common journeys, buddy newcomers up with regular cyclists, or provide incentives for the staff that cycle in on that day to encourage them to get involved. 
In partnership with Cyclescheme, Day 4 of the #7daysofcycling on 12 June is all about cycle friendly businesses and encouraging people to cycle to work, a perfect opportunity for your company to join in the Bike Week celebrations. 
2. Beginners ride
Beginners rides are perfect for encouraging people to take up cycling for the first time or return to cycling after an absence. Community Cycle Clubs are encouraged to put on and register their events during Bike Week, but anyone can put on a beginner ride, so if you know people who want to (re)discover the joys of cycling, why not consider putting on a simple cycle ride and invite them along?
Find quiet roads or a park, keep the distance manageable for newcomers and make the ride enjoyable! The feel-good factor of getting someone back into cycling will be great for both you and them.
3. Bike breakfast
A bike breakfast is a reward event for those who have cycled into school or work, though there's nothing stopping you organising one for your friends to all meet up at a café or friends house. Cycle there, lock up your bikes and eat - and it is a great time to share stories of your journey.
Why not make your bike breakfast a bit special for Bike Week by running a competition or a cycling-themed quiz with your participants? Your event might just be a one-off but it's a great way to encourage people to take up cycling on a more frequent basis.
4. Family friendly fun
Cycling is an amazing way to spend quality time together as a family. Whatever the age of your children or grandchildren, you can enjoy cycling together. From learning to ride a balance bike, to finding routes that challenge and excite your teenager, Bike Week is the perfect time to inspire your family to cycle.
Set up an event in your local community that caters for families with routes that are suitable for both younger riders and adults. Make the event fun and enjoyable with refreshments and other entertainment. 
5. Cycling to school
Calling all schools, colleges and universities: why not hold a 'cycle to school' event in Bike Week? We know cycling has loads of advantages, from the physical and mental health benefits to reducing congestion and air pollution around your school.
Registering a Bike Week cycle to school event will provide you with promotional materials to help shout about it and could even help persuade peer groups to make a life-changing improvement by making active travel part of their commute. 
Even if there isn't an organised event at your school, college or uni, you can still take part in Bike Week by choosing to cycle and getting involved in the #7daysofcycling.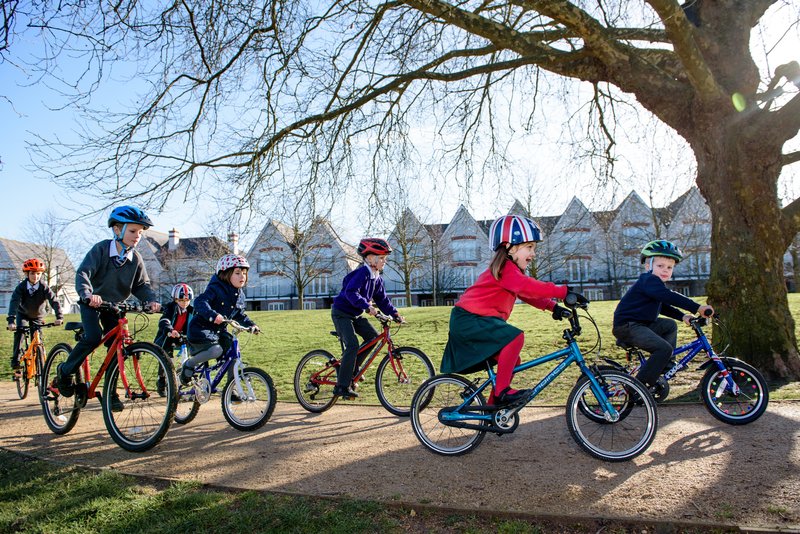 6. Training courses
If you're part of a cycling group, why not consider running a ride leader or first aid course for your members or the local community? Help others learn new skills, have fun as well as meet new people - it's great as a group bonding session.
Or if you're a cycle trainer or bike shop, why not host a maintenance training course? One of the biggest barriers to cycling is a fear, many people worry that when something goes wrong they won't know how to fix it. Learning tasks like puncture repair, adjusting brakes, or fixing a chain can enable those who want to cycle have the confidence to do it more regularly. 
7. Fetes and community events 
June often has lots of lively, local community fetes and fairs, and organisers are often looking for local people to get involved. A stall, or bike ride as part of the event, could be the perfect way to promote your cycling group, charity ride, local routes or just to promote cycling in your area. 
8. Repairs and servicing (Dr Bike) 
Getting your bike in working order really sets you up for a summer of cycling. Whether you are a dab hand with repairs or a fully-qualified mechanic, you could offer servicing and repairs and encourage friends, family and colleagues to come along and get their bikes in tip-top condition. 
Dr Bike, or bike servicing events, are great opportunities for people who need some help fixing up their bike. They are not only simple to run but can make a real difference to people wanting to get out and cycle.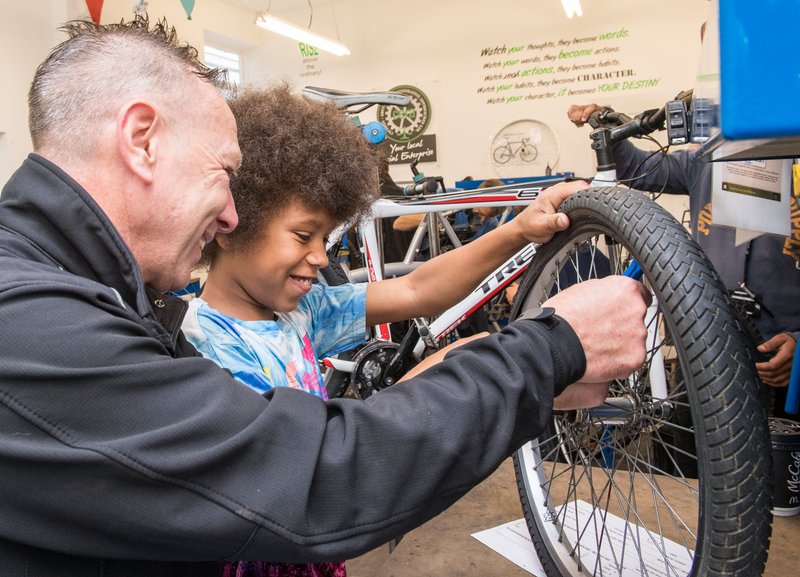 9. Film night
While many obviously do, not all Bike Week events have to include pedalling. You might find the best way to get friends or family involved and think about the pleasure of cycling, is to have a film night! There are plenty of cycling movies, or if reading is more your thing, why not have a cycle-themed book club? Or, with a suitable venue, why not put on a speaking event? Like this Peter Walker talk and Q&A being hosted in Nottingham. If your event celebrates cycling, then you can make it a part of Bike Week. 
10. Guided tours and treasure hunts 
Put on a cycle ride with a difference. How about a guided tour to show off your local area? Cycling is the perfect way to take in the sights. Or, maybe a treasure hunt where you have to cycle between points and solve clues to the next location. There are lots of ways to make the journey interesting. 
To see those events that have already been registered, visit the Bike Week events page. This is just a taster of some events that take place every year as part of Bike Week, so don't hold back with your own ideas and opportunities. For more information and support with organising an event, visit the Bike Week website.